History of Saint Paul Roman Catholic Church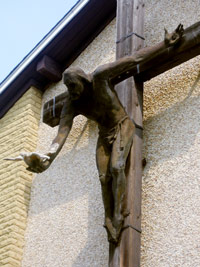 Our parish of St. Paul was established by order of his Eminence, Archbishop John Cardinal Krol, on June 4th, 1963. Father Francis Gaughan was assigned as first pastor. In selecting a patron for the new parish—drawn from areas formerly in the parishes of St. Patrick, St. Titus and Epiphany of Our Lord, his Excellency chose St. Paul, Apostle of the Gentiles and co-patron of the Cathedral of the Archdiocese. At its founding, our parish included nearly 800 families, and close to 3,000 souls.
The first Mass of our parish was celebrated on Sunday, June 16th, 1963. With the assistance of the Augustinian Fathers from Villanova University, four Masses were offered on that day in the auditorium of Bishop Kenrick High School (presently named Kennedy-Kenrick High School).
With generous, continued effort of the men of the parish our rectory was made habitable, and daily Mass in the rectory chapel was begun.
Planning for our parish buildings commenced in August of 1963 when the architectural firm of Peter and Paul Getz was engaged. Approval of construction plans were secured, and in January of 1964 contracts were awarded to the Lloyd F. Kershner organization of Norristown for erection of a combined church-and-school building. The contract for the convent was later awarded to the Davis Construction Company.
The school included 13 completed classrooms in addition to a parish hall—representing potentially four additional classrooms—as well as Sister Superior's office, two faculty rooms and a medical room.
Completion of our church followed shortly, and at seven o'clock on the morning of Sunday, October 3rd, 1964, the first Mass in the new church was celebrated.
The Cross which is displayed on the back of the church facing the corner of New Hope Street and East Johnson Highway was created and sculpted by Wendy Berg, who, at the time, was a student in her junior year, at Moore College of Art, in Philadelphia, Pa. Assistant Professor Jerry Crimmins said "she accepted the commission and offered to do the complete job, including the casting – a remarkable undertaking for one person… but a unique learning experience."