Saint Paul Parish Upcoming Events
Wednesday, September 7th, 7:00 PM
Widow and Widowers
Now is the time for a "New Beginning".  Come join us for fun and friendship at the start of a new season.  We meet in St. Helena's School Cafeteria, 1489 DeKalb Pike, Bleu Bell, at 7PM the first Wednesday of each month.  (No meetings December, June, July and August).  First meeting is Wednesday, September 7th.  Any questions, call the rectory at 610-279-6725.
Wednesday, October 12th, 7:00 PM
Event:  27th Annual Candlelight Rosary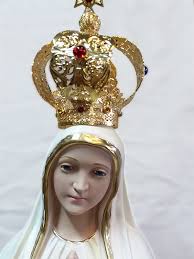 ANNUAL CANDLELIGHT ROSARY 
Our Twenty-seventh Annual Candlelight Rosary Devotions will be held on this date, the vigil of Our Lady's final apparition at Fatima.  As we have done the past twenty-six years, the rosary will be recited by candlelight, in the presence of the Pilgrim Virgin of Fatima statue.  Benediction and veneration of the relics of Saints Francisco and Jacinta and Sister Lucia and the tree on which Our Lady appeared will follow.

It was at Fatima that Our Lady identified herself as "The Lady of the Rosary" on October 13, 1917.  In each of her apparitions there she asked us to pray the rosary daily for the conversion of sinners and for peace in the world.  Her full title in association with these apparitions is "Our Lady of the Rosary of Fatima."

The night is timed to correspond to the all-night vigil that occurs in Fatima on this night.  At the same time we are gathering in our church to pray the rosary, the all-night vigil of rosaries is going on in Fatima to mark this special occasion of Our Lady's visit to earth to help her children.  This year, seemingly more than ever, we need Our Lady's help.  Join us as we unite in prayer with people all over the world imploring Our Lady's intercession.

The Pilgrim Virgin of Fatima Statue will be present for our devotions.  This statue was blessed in Fatima and carved there from holmoak (the same type of tree over which Our Lady appeared).  Pilgrim Virgin statues travel from Fatima all over the world, inviting the faithful and even non-believers to Our Lady's Immaculate Heart (which she revealed to us at Fatima) and to a contemplation of her Message of Fatima.

The devotions conclude with the famous "Fatima Farewell" during which the congregation waves hankies as they do in Fatima. (Hankies are provided).  Candles are available for a donation as you enter church for the devotions.  Please join us as we consecrate ourselves, our families, our parish and our nation to Our Lady's Immaculate Heart.

This year's Candlelight Rosary will take on the added dimension of a worldwide prayer for deliverance from COVID-19and for an end to the war in Ukraine.  Most especially, in this, our nation's Eucharistic Revival (as called for by the USCCB) we must pray for the renewal of belief in the Real Presence of Jesus in the Most Blessed Sacrament, and for increased devotion to our Eucharistic Lord by all the faithful. As a nation, we must come to Our Lady and implore her intercession for our country's peace and harmony.  At Fatima, during the July apparition, Our Lady told us that in desperate situations only she can help us to avoid God's displeasure.  Join us, as loving children of Mary, on October 12th, to implore Our Lady's help.  She helped to end a world war at Fatima.  If enough people care, she can help us again, to overcome the present dilemmas we are facing
Sunday – Tuesday, October 23rd – 25th
Event:  FORTY HOURS
This solemn Eucharistic Devotion will be held from October 23rd to October 25th.  All-day exposition of the Blessed Sacrament will begin at the 10:30 Mass on Sunday.  Our Lord will be exposed on our altar for these three days, until 7:00 devotions each evening.  On Monday and Tuesday, exposition will begin at the 8:00 AM Mass.  Please keep open these dates as we celebrate the Real Presence of Jesus among us in the Blessed Sacrament.
Local Area Upcoming Events
August 19 – 21 and October 14 – 16
Event:  RETROUVAILLE:  Rediscover the love in your marriage  
Tens of thousands of couples have healed their marriages through Retrouvaille (pronounced Retro-vy).  If you know anyone who could benefit from this program, please pass this on.  Couples learn to build communication skills and to increase intimacy.  It provides help for marriage problems, difficulties or crises.  Upcoming programs will be held August 19 – 21 and October 14 – 16 at the Family Life Center in Malvern, PA.
Location: Family Life Center in Malvern, PA.
More information, 
or to register, visit 
www.HelpOurMarriage.org
 or call 215-766-3944 or 800-470-2230.  All inquiries are strictly confidential.