Saint Paul Parish Upcoming Events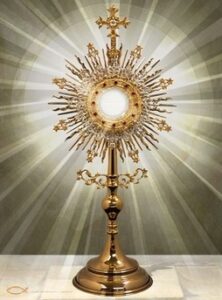 Sunday – Tuesday, October 23rd – 25th
Event:  FORTY HOURS
This solemn Eucharistic Devotion will be held from October 23rd to October 25th.  All-day exposition of the Blessed Sacrament will begin at the 10:30 Mass on Sunday.  Our Lord will be exposed on our altar for these three days, until 7:00 devotions each evening.  On Monday and Tuesday, exposition will begin at the 8:00 AM Mass.  Please keep open these dates as we celebrate the Real Presence of Jesus among us in the Blessed Sacrament.
---
Friday, November 18th, 5 PM-9PM
Saturday, November 19th, 9AM-2 PM
SAINT PAUL'S ANNUAL CHRISTMAS BAZAAR
THE BAZAAR IS BACK!
As We Continue A Wonderful Holiday Tradition
The Perfect Start To Christmas Under One Roof 
Fabulous Raffle Prizes For Fine Gifts, Restaurants & Stores
Our Christmas Café For Great Food
Tasty Home-Made Baked Goods & Candy
Holiday Gift Boutique & Crafts
ATTIC TREASURES ª JEWELRY ª RELIGIOUS ARTICLES
50/50 ª KIDS' GAMES ª A CHEER WHEEL ª A GROCERY WHEEL
AND A VISIT FROM SANTA HIMSELF! 
Sponsored by Saint Paul Women's Guild